Things to do in Camelford
Listed below are all the things to do in Camelford, Cornwall that we offer through GoBananas. We can reserve and book more than 250 different and exciting activities and experiences. Everything within 25 miles of Camelford is displayed by activity type below. Choosing stuff to do in Camelford has never been so easy!
Camelford in Cornwall is believed by some to be the location of Camelot from the famed stories of King Arthur. It is also believed that Arthur's final battle happened at Slaughter Bridge. Many refute this legend, but Camelford still makes these claims.
Camelford also boasts many churches including St Thomas Church, Pollards Chapel, Camelford Methodist Church, and Lanteglos Parish Church. There is also Roughton which is an extinct volcano.
Getting There
How can you get to Camelford? The best ways are by car or bus. There is no longer a train station in Camelford. If you want to take the train, you will have to combine the train with a bus ride.
What sports or activities are popular here?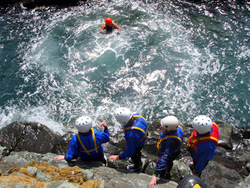 One of the major activities that is popular for Camelford is hiking. The beautiful scenery here makes it an ideal place for hikers. Hikers come every year from all over the world to hike in the Camelford area. Cycling also is very popular for seeing this beautiful area.
If you are a golfer, you will love to stay and golf at the Bowood Park Hotel and Golf Club. The course is kept in great condition and is a good challenge.
If you're a little more adventurous, you may want to make the short journey to Crowdy Reservoir. People like to go wind surfing at Crowdy Reservoir.
Night life
I don't know how you would have any energy for a club, if you hike, cycle, golf, and wind surf, but if you need some nightlife, you can find a few night clubs in Camelford. The night clubs are not what you would find in big cities like London. Most of the night life is pubs and close before 3:00 am as they do not get the necessary documents to stay open later.
So make your plans to see Camelford on your next holiday.