Short guide to our stag and hen party activities in Sheffield for weekends or just the one night stag or hen do visitor. See below for our comprehensive list of activities and packages.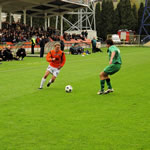 Sheffield is a lively town despite its proximity to other better known centres like Nottingham, Leeds or maybe Newcastle. This once gritty mining town still has a bit of an edge to it but its location beside the Peaks National Park is a real blessing. Sheffield works well for parties that want some outdoor activities during the day before an evening of banter and drinking. We have a list of daytime activities here and a more limited list of things to do in the evening in Sheffield here.
Start your stag party celebration with some of our all time favourite driving pursuits. You don't have to be a seasoned driver to give it a try. 4x4 Off road driving, go karting, quad biking or tank driving which suits visitors coming up from the south.
Hens too have a lot to cheer for; there are a choice of dancing activities – something quirky to do for the early evenings. But if you girls are looking for a full day event, then our multi-activity events will be perfect(even the cheapest). Sheffield also takes credit to over 60 breweries, which keeps alive the brewing tradition of the yore. Not to miss the fine dining place the city offers for all gourmets. Hit the West street to have the best nightlife experience of Sheffield.
Grab the VIP club passes to make sure that you in the party mood all the night. There are casinos and grey hound racing grounds too for those who are in a mood to gamble. No hen night party can be complete without a bit of erotic fun and there are many male strip clubs and night spots where you can get smitten with the wild and brawny charm of the hunky men. Options are truly endless and to cherry pick the best options on offer, call us at gobananas, the party makers with an eye for the best, to make your stag and hen party an unbeatable experience.