Newquay Hen Weekend Guide
Hen Weekends in Newquay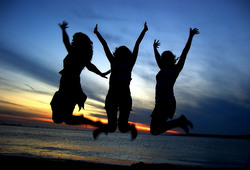 Having a hen weekend in Newquay is a great option if you are down South. Although it maybe a bit tricky to get to in terms of transport it is also the reason so many choose it, why just do another city hen weekend. You can get to Newquay by train or plane but normally it does mean finding the right connections. The unique topography of Newquay allows excellent scope for many outdoor activities that you don't get in many places of the UK.
Newquay Hen Weekends - Packages
Newquay offers a wide range of hen weekend activities and active nightlife options, as well as the great accommodation facilities, making this place an ideal base for celebrations. The popular activities for your hen weekend party range from beauty treatment, pampering days, health clubs, indoor & outdoor karting, paintball, clay pigeon shooting, Honda pilots, off road rally karts, 4 x 4, quad bikes, archery and many more hen weekend activities. Also check out other things to do in Cornwall. If your looking for camping then check out Porth Beach Campsite.
The nightlife options available in Newquay for your hen weekend include nightclubs, bars and restaurants. Choose the activities that best suit your requirements, budget and time. One thing is sure if you are opting for Newquay as your hen weekend, then get in touch as we can get some great deals.
Also found this place in Newquay if you fancy getting married there Whipsiderry hotel.