Norwich Party Guide, Group Deals, Activities and Ideas
With many popular things to do, Norwich stag and hen weekends is where you can count on the many delights. A whole host of activities spread out throughout the place, discover the fun that each event is waiting to bestow upon you! Behind the red rope find the virtual fun awaiting for all you guys and girls! Go straight for the many adventurous options that is waiting in our long list of event's options or treat yourself to a raunchy night.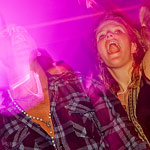 Attractions and outdoor recreation is in abundance, if you choose your last night of freedom in Norwich! The place has tons of activities that would allow you to show off your skills, party with your mates and bring out the other side which is truly adventurous.
Take advantage of the great outdoors during the day or you can help yourself to bare bodies or beer bodies or a mix of both during the night. Whatever your tastes are, just sent us your budget and size and we at Gobananas will design the best stag and hen party you would have ever heard!