A guide to Readings top stag and hen party ideas. We at gobananas pride oursleves to work with some of top activity suppliers in Reading. See our comprehensive list of daytime, night time and accommodation choices below.
Reading Stag & Hen Favourites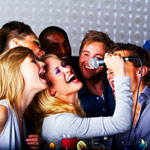 Reading is famous as one of the UK's top ten retail destinations. This place has got lot more than a multitude of shopping options. Reading holds an impressive history, The Forbury Gardens – a nationally acclaimed Victorian formal garden is the town's floral heart, taking you to the past of Reading and the burial place of King of England.
Flocked by tourists and party revealers, Reading is known for its choice of party options all round the year. The city is dotted with a selection of nightclubs, bars, restaurants, shops, hotels and much more. The beautiful city has consistently appeared in the top 20 list of UK's destination on the Inbound Passenger Survey (sources Office for National Statistics).
The countryside provides you with a wide choice of daytime activities and events for your stag and hen parties. There's so much to see and do, that you'll love to come here again. So why not start your day with some exciting day time activities and make it all more special, get started with our all time favourite motorised events like go karting, 4x4 off road driving, blindfold driving and Honda pilots. For more there are other challenging treats like white water rafting, high ropes, assault course and more. But don't forget to explore the nightlife of Reading!