Ever felt like this at work:
Then it might be time that you and your work colleagues got out of the office or factory and had some fun!
GoBananas has lots of great ideas and activities to help bond your team together.  Check out all our activities here
Planning any sort of group outing can be a very challenging process.  First, you have to pick the right day where everyone is available to attend.  Then you have to find a proper venue that can accommodate your many invited guests and one that is not already booked for your specifically picked dates.  Coordinating the event quickly and for the best possible cost is always a tedious process, too.
And after jumping through all of these proverbial hoops, you still have to pay the money and deposits to multiple different venues.  This can all take a great deal of time and effort.   Why not let Go Bananas take care of all of these little details for you instead?
Choose your type of outing, and we will do the rest!
For everything from Stag Parties to Hen Parties, Corporate Team Building Events to group trips to Europe, and Birthday Celebrations to Anniversary Bashes, there is no event that Go Bananas hasn't already successfully organized.  We'll plan everything for you, right down to the rentals of the limousine or the chartering of the yacht.  No request is too outrageous for the team at Go Bananas.  That's what we do best!
We create group events that are unlike any other!  With our wide and expansive network of UK connections from restaurateurs to luxury resort accommodations, we can organize and implement the perfect event for any number of invited guests.
Choose Go Bananas with Stag Parties!
The rite of passage for any man entering into marriage is the full blown stag party.  We usually think of free flowing alcohol, loud music, and a nightclub filled with scantily clad dancers.  But believe it or not, there are hundreds of different options available through Go Bananas!  Some grooms would prefer to do something more causal or more athletic.  And we can design any Stag Package to suit your individual tastes.
How about a Stag Party Weekend to the Scotland?  Or a day trip of windsurfing, parasailing, or waterskiing?    Nothing is off limits when you Go Bananas with your next Stag Party.  We'll even take special requests if you don't find that perfect Stag Party Package already online.  Let us organize an alternative event other than the standard night of drunken debauchery that your new bride is trying to avoid.
Search our site for hundreds of Hen Party Ideas!
Do you need to organize a group trip for the girls?  Perhaps you are having some trouble thinking of an idea that will appeal to everyone.  Search through our website of pre-packaged group outings and select a few different options based on the style of event, the dates of availability, and the preferred location.  Then get back to us once you and the girls have decided on which option works best.  We'll do the rest, from purchasing the tickets to planning the travel arrangements.
Choose from shorter outings, like a chocolate making workshop or a gourmet cooking class, to more exciting outdoor activities, like horseback riding or a weekend getaway to Yorkshire, England.  Go Bananas has tourism and entertainment connections all over the UK, including Wales and Scotland.  And if you don't see the perfect Hen Party idea already online, contact us right away.  We'll design a group package especially for you!
Plan your next Corporate Team Building Event with Go Bananas!
Sometimes your options for team building events can be rather limited, depending on the region in which you are located.  But we make it easy by offering a great many pre-packed corporate team building events based on specific cities and areas of the UK.  Take the Ultimate High Ropes Challenge in Perth or ask us to create a leisurely day of Beach Volleyball ( www.cornwallvolleyball.co.uk ) and Football in Cornwall.
Team building is a great way to boost employee morale and rejuvenate company productivity.  It's also a way to stretch personal boundaries, overcome fears, and increase self-confidence.  The Zip Wire Event in North Yorkshire or the Mission Impossible Team Building Activity in Bristol are very popular choices that have really provided some rather impressive results for our clients.  Each of our packages include a variety of Icebreakers, Energizer Events, Incentive and Reward Activities, as well as some evening entertainment for simple employee bonding and relaxation.
Don't be forced into the same old routines for planning group activities!  Shake it up a bit with Go Bananas!  We've got hundreds of ideas already online for you to choose from.  And the best part is that all you need to do is pick the event and the dates.  We'll do everything else for you!  Go online today and check out the many available options.  Then send us a quick online message request.  We'll get back with you immediately.
Business leaders have a plan of success. They know what they want, they know how to get it, and they are motivated to get there. The only problem, however, is that the same motivation and interests may not be present in the employees. Sometimes, the team fails to come together and work towards the common goal. There are too many disconnections and there is too much apathy, which could bring down the business as a whole. This is why team building is such a critical part of success for businesses in today's world. If you want to stand out and if you want to make progress, you have to have a team that works together. You want everyone to be on the same page, no matter what they do for the business. In order to get all employees working together and to develop a strong team, you are going to have to put effort into this. You have to find ways to appeal to your employees effectively so that they are on your side, and you are going to have to manage this without sacrificing the work and quality that you expect. This is possible, and a lot of businesses out there prove it every day that they are open.
Employees do not always show the same love for their work that you do. While you may be motivated to push yourself further, they may not see the same appeal in doing so. There is also the problem of employees not being in touch with other areas of the business, especially leaders. Having employees that are either apathetic about their job or are not in touch with important people is only going to hurt profits and work quality. Rather than just firing everyone, however, you can utilize the skills and knowledge that you know they have. To do this, you just have to inspire them to work harder. When employees like their job more, they are more likely to work at their best. They like the pay, they like the people, and they like the environment, and they do not want to lose any of this. Team building gives employees a reason to work at their best while ensuring that no one is lost due to poor communication. Everyone can come together, discuss plans, work towards a common goal, and continue like this for a long time. The team is strong and held together quite well.
Part of building up your team is rewarding them for good work. A lot of businesses already have office parties, and making these regular can give a boost to satisfaction and happiness amongst the employees. Both regular and Christmas parties are going to give the employees something to look forward to, something that makes them want to work harder. This is especially true when they are gaining something from these parties and not just having fun, such as a Christmas bonus. While these office parties do not have to have anything other than fun, of course, employees still enjoy having as much to look forward to as possible. It gets them motivated to produce the highest quality results possible so that they can take much, much more away from this.
Along with office parties, employees should be able to enjoy the holidays. This does not mean that they should all get off even when it is a busy season, but that they should have the chance to have fun during a celebratory time. By embracing the festive mood, doing Christmas parties and having activities that get them in the spirit of the holidays, you can bring people together. With so many team building activities that you can make festive, there are nearly limitless opportunities for this.
Team building exercises and activities are not all about trust falls and Christmas parties. It is important to remember that there are plenty of games and other fun things to do that are completely different from parties and some of the well known activities. You have games that get everyone competitive, that get people working together, that rely on communication, and that force people to get to know one another. These games and activities strengthen the individuals while bringing the team closer together, an essential part of business growth. When you have a strong team that works together flawlessly, you can start to meet your own expectations and see your plans through.
A strong team can bring employers the results that they are after. These teams communicate, work together, and have the skills and knowledge necessary to do the job. When they are all on the same page and working towards the same goal, the employees can see results sooner and that are high quality. Embracing team building can help your team to deliver on the quality and excellence that you expect of them, and it can do this without hassle or worries.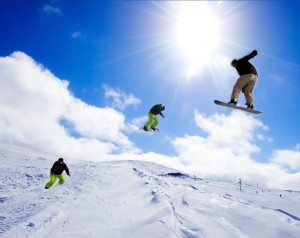 No need for this to be a winter of discontent, not when you can fix up your stag or hen weekend with GoBananas! We have some great stuff you can do even when the days are short and the nights are long.
Anyway, it doesn't matter what time of year it is, it's always party time at GoBananas!
Obviously skiing is top of the list and there really is no need to go far afield to have a great time on the slopes when there are some brilliant locations in Scotland. If the snow doesn't materialise then up and down the country there are indoor and outdoor all-weather centres you can go to. Boarding is another option either on snow or artificial slopes.
There are also plenty of driving options you can get up to in all weathers. There are both indoor and outdoor karting tracks all across the country. There are many more driving options to choose from with GoBananas so if  you don't find karting cool you'll still be able to fix up your fix behind the wheel (or handlebars!).
Something else to get you all fired up – a spot of shooting! We have loads of shooting options from clays to combat laser. This is always a great group activity – find out who's the crackshot and who's the crackpot!
One place you won't ever mind it being cool is in the clubs! In fact the night time is always the right time for some fun. There are tons of  things to do at night, perhaps a bar crawl or the lap dancing clubs, butlers in the buff,  not forgetting strippers of course!
All it takes is one quick call and we'll get the (snow) ball rolling right away!  You'll be walking in the air when you find out how easy it is with GoBananas!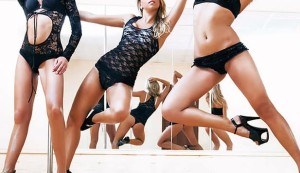 Still not made up your mind about booking a stag or hen do with GoBananas?
Let's keep it simple with a list of some of the many benefits, but for the full picture visit our appealing website!
Plenty of choice
Incredible activities to try
Save time – we do it all
Save money too with our packages
Experts in all aspects of stag and hen dos
Deal with one place not dozens
Only a small deposit needed to book
Fantastic prices
Friends pay their share direct
You don't arrange stag and hen weekends every day, but we do, so it makes sense to let us do all the dirty work (and save you cash). All you really have to do is take the credit!
We're brilliant at cutting out all the hassle of organising a great stag weekend – now we've cut the cost as well! Our canny top GoBananas team has managed to peel back the price of our Need For Speed Edinburgh two-night package by an impressive £50 for the winter months so all you pay each is £89.99!
That includes accommodation, karting, Club Class Bus bar tour and lap dancing! The money you save could let you add another great activity to your weekend or pay for a shitload of beer to keep you weekend wet rather than mildy moist!
This hot deal is only on for the winter so we wouldn't be hanging back if you want to get booked!
.
Stags and Hens and others who like to to be in the driving seat can track down something different at GoBananas!
We all know karts and quads are cool and great fun but that's not the only way you get around.
Ok you might not need filled in on the fun of 4×4 driving but did you know you can also get down and dirty in mud buggies?
Then there's Argo Cats, Honda Pilots, Powerturn and RageBuggies, Hovercrafting, Rally Driving, Tanks and Segways! You can even see if you have second sight by trying driving blindfold!
No need for a satnav to suss out a shortcut to some motorised mayhem…..just get in touch with our top team at GoBananas now!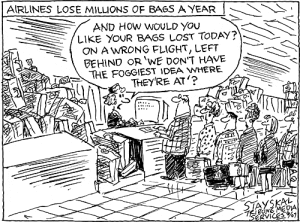 Presumably seriously pissed off being fobbed off or even unable to negotiate through the recorded phone selection messages maze one man has hit upon a novel way of getting a very big spotlight to illuminate his dilemma. It seems that after inaction on the part of British Airways to deal with his father's missing luggage he hit upon a brilliant way of getting some attention.
He decided not just to tweet about it, he bought a promoted tweet usually only used by advertisers keen to reach a wider audience. It appears to have been successful but whether it was cost effective would depend on what was in his paw's suitcase!
Is danger becoming a stranger or are you still seeking thrills? According to a study published in the journal Scientific Reports, and reported on the BBC, guys are giving up on physically challenging activities like parachuting or mountaineering.
It claims one explanation is that blokes are now less fit but also concedes that some activities like skiing are now thought to be ordinary not extraordinary.
No need to panic though, GoBananas have no intention of curtailing canyoning in favour of crochet classes, and anyway the study also says that more men dislike dull and repetitive chores than women (they didn't need a survey to find out we're not into ironing and dusting).
The fightback starts here – stand up and be counted and complete our survey!
There are plenty of lotions and potions you can buy to improve your love life but it surely must be better to go the organ-ic route If you really need to perk up your pecker or make your pussy juicy!
If vanity means you don't fancy asking the doc for viagra or the temperature in the bedroom is bordering on Baltic the best remedy is readily available in every supermarket.
You can easily uncover some fantastic aphrodisiac options  in the fruit and veg aisle, plus your fellow shoppers will assume you're some kind of health nut with your trolly-load of fruit, not a sexual adventurer!