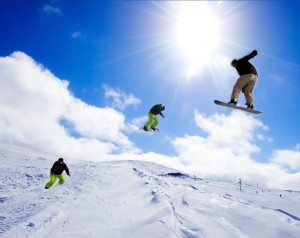 No need for this to be a winter of discontent, not when you can fix up your stag or hen weekend with GoBananas! We have some great stuff you can do even when the days are short and the nights are long.
Anyway, it doesn't matter what time of year it is, it's always party time at GoBananas!
Obviously skiing is top of the list and there really is no need to go far afield to have a great time on the slopes when there are some brilliant locations in Scotland. If the snow doesn't materialise then up and down the country there are indoor and outdoor all-weather centres you can go to. Boarding is another option either on snow or artificial slopes.
There are also plenty of driving options you can get up to in all weathers. There are both indoor and outdoor karting tracks all across the country. There are many more driving options to choose from with GoBananas so if  you don't find karting cool you'll still be able to fix up your fix behind the wheel (or handlebars!).
Something else to get you all fired up – a spot of shooting! We have loads of shooting options from clays to combat laser. This is always a great group activity – find out who's the crackshot and who's the crackpot!
One place you won't ever mind it being cool is in the clubs! In fact the night time is always the right time for some fun. There are tons of  things to do at night, perhaps a bar crawl or the lap dancing clubs, butlers in the buff,  not forgetting strippers of course!
All it takes is one quick call and we'll get the (snow) ball rolling right away!  You'll be walking in the air when you find out how easy it is with GoBananas!