Hen party Games - Ibble Dibble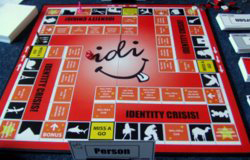 Ibble Dibble is a drinking game and since any number of players can take part, large groups can enjoy this tongue-twisting hen party game. You need to have a paintbrush a cork and a lighter. The game starts with everyone getting a drink first. 'Ibble dibble' is the name given to all players at first and 'dibble ibble' is what players who get marked are called.
Each hen do player names herself as 1,2,3,4 and so on. The game starts with player number 1 passing the lighted cork, chanting "Ibble dibble 1", to player number 2. This continues till someone slips her tongue and makes mistakes in calling out. She is then marked on her face and another round of drinks is had and the game continues. The player with no marks on her face is finally declared the winner. But, the hilarious part is when the girls with marked faces troop into nighclubs or bars!