Stick it - Hen Party Game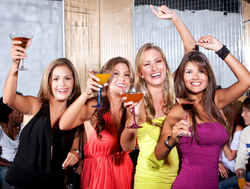 This silly but fun game, requires everybody to sit in circle or in a line. A sticker is pasted on everybody's shirt and the girls are instructed not to say the bride's name or sit with their legs crossed.
Girls who get caught saying the bride's name or with their legs crossed get the stickers from the one who catches them. The person collecting the most number of stickers is declared winner and is photographed with all the stickers on her face! Be clever with the kind of stickers you get to double the fun in this game!