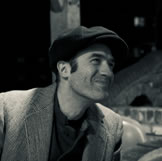 He says his position at GoBananas is 'without compare.' Yup! Used to be a chef - what a great occupation. His hobby is simply loving - us too boss, us too!
Not so daft that we're gonna diss a director - nah we're smart people here. He does admit to a liking for hand-made margueritas and that his biggest cock-up was 'hanging a 700,000 pound painting on a wall with too weak a mounting.' Now that's a seriously weighty chunk of art to manhandle, let along stick up on the wall!
Unlike Sean Connery his first martini left him shick rathen shaken and shtirred but shinch then Sholto's been shimply inshpirational. Nuff shaid!!