Length of Game: 30 mins- 1hour
Minimum Number Required: 4
Complexity: easy
7-11 Doubles Drinking Game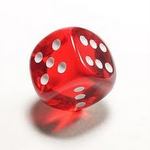 An easy drinking game once all the players get the hang of the scoring and drinking penalties.
Step1. Ensure that you have at least 3 Dice-in case you lose one! Only 2 are required for the game
Step2. Place a Pint glass in the centre of the table and mark a line on it indicating 1/4 full (approx).It does not actually matter where the mark is, just so long as it can be seen and is agreed by all.
Step3. Make sure that the scoring system / rules are either written down or clearly understood by all the players.
Step4. Place a large Pitcher of beer on the table to allow for filling the central glass quickly and easily.
Step5. Arrange all players in a circle: the game is best with 4 or more players otherwise it soon becomes carnage!
Object: One person must drink the contents of the central glass before the other player can roll a 7, 11 or a double on the dice.
The first player rolls both dice and as soon as he rolls a 7, 11 or a double, he then nominates another player to drink the contents of the central glass which should be about 1/4 pint
At this point the dice roller and the nominated drinker must not be touching the dice or the central glass.
As soon as the drinker touches the glass, the dice roller grabs the dice and keeps rolling the dice until a 7, 11 or double is rolled again.
The drinker in turn has to quaff the contents of the glass before the dice roller can roll a 7, 11 or double
The object is to down the contents of the glass before the roller can score a 7, 11 or double
If the drinker fails to empty the glass before a 7, 11 or double is thrown then the process starts again until the drinker beats the roller.
Once the drinker wins, or after 5 failures, pass the dice clockwise to the next player who again must roll a 7, 11 or double to nominate a new drinker.
PENALTY: Dice off the table- roller quaffs a full pint.
PENALTY: If the roller touches the dice before the drinker touches the glass- roller drinks the glass
This game was brought to you FREE by Gobananas, the Stag and Hen Party experts. For more FREE advice call our experts at Gobananas on 0800 567 7101 now before you miss out on hundreds of great deals on Stag and Hen accommodation and activities. Check out the amazing Club Class Bus for a Stag and Hen party extravaganza on 0800 567 7101
What you need
2 Dice
Pitcher of Beer or Lager
Pint Glass