Learning a language is tough, but without doubt far tougher is trying to fathom out the real meaning of seemingly innocent -sounding statements that start to appear as a relationship blossoms. Biggest culprits are (in my experience) women, but we men have our moments of inspiration too. However, ladies first!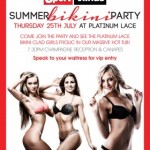 Forget the bath bombs Matey, this looks way more fun than anything we've found in the bath so far.
Just the thing to raise the summer temperatures even higher – a summer bikini party in a hot tub in a London gentleman's club. The champagne will probably be the only thing chilled on Thursday.
This gallery contains 5 photos.
Dour, that's what they call us. Perhaps they should add rebellious, rowdy, unruly, wry and rumbunctious while they're at it. Or maybe just honest and direct.
We Scots don't piss about with pleasantries we just tell it like it is or simply sort it out with legendary directness. Continue reading →