Planning any sort of group outing can be a very challenging process.  First, you have to pick the right day where everyone is available to attend.  Then you have to find a proper venue that can accommodate your many invited guests and one that is not already booked for your specifically picked dates.  Coordinating the event quickly and for the best possible cost is always a tedious process, too.
And after jumping through all of these proverbial hoops, you still have to pay the money and deposits to multiple different venues.  This can all take a great deal of time and effort.   Why not let Go Bananas take care of all of these little details for you instead?
Choose your type of outing, and we will do the rest!
For everything from Stag Parties to Hen Parties, Corporate Team Building Events to group trips to Europe, and Birthday Celebrations to Anniversary Bashes, there is no event that Go Bananas hasn't already successfully organized.  We'll plan everything for you, right down to the rentals of the limousine or the chartering of the yacht.  No request is too outrageous for the team at Go Bananas.  That's what we do best!
We create group events that are unlike any other!  With our wide and expansive network of UK connections from restaurateurs to luxury resort accommodations, we can organize and implement the perfect event for any number of invited guests.
Choose Go Bananas with Stag Parties!
The rite of passage for any man entering into marriage is the full blown stag party.  We usually think of free flowing alcohol, loud music, and a nightclub filled with scantily clad dancers.  But believe it or not, there are hundreds of different options available through Go Bananas!  Some grooms would prefer to do something more causal or more athletic.  And we can design any Stag Package to suit your individual tastes.
How about a Stag Party Weekend to the Scotland?  Or a day trip of windsurfing, parasailing, or waterskiing?    Nothing is off limits when you Go Bananas with your next Stag Party.  We'll even take special requests if you don't find that perfect Stag Party Package already online.  Let us organize an alternative event other than the standard night of drunken debauchery that your new bride is trying to avoid.
Search our site for hundreds of Hen Party Ideas!
Do you need to organize a group trip for the girls?  Perhaps you are having some trouble thinking of an idea that will appeal to everyone.  Search through our website of pre-packaged group outings and select a few different options based on the style of event, the dates of availability, and the preferred location.  Then get back to us once you and the girls have decided on which option works best.  We'll do the rest, from purchasing the tickets to planning the travel arrangements.
Choose from shorter outings, like a chocolate making workshop or a gourmet cooking class, to more exciting outdoor activities, like horseback riding or a weekend getaway to Yorkshire, England.  Go Bananas has tourism and entertainment connections all over the UK, including Wales and Scotland.  And if you don't see the perfect Hen Party idea already online, contact us right away.  We'll design a group package especially for you!
Plan your next Corporate Team Building Event with Go Bananas!
Sometimes your options for team building events can be rather limited, depending on the region in which you are located.  But we make it easy by offering a great many pre-packed corporate team building events based on specific cities and areas of the UK.  Take the Ultimate High Ropes Challenge in Perth or ask us to create a leisurely day of Beach Volleyball ( www.cornwallvolleyball.co.uk ) and Football in Cornwall.
Team building is a great way to boost employee morale and rejuvenate company productivity.  It's also a way to stretch personal boundaries, overcome fears, and increase self-confidence.  The Zip Wire Event in North Yorkshire or the Mission Impossible Team Building Activity in Bristol are very popular choices that have really provided some rather impressive results for our clients.  Each of our packages include a variety of Icebreakers, Energizer Events, Incentive and Reward Activities, as well as some evening entertainment for simple employee bonding and relaxation.
Don't be forced into the same old routines for planning group activities!  Shake it up a bit with Go Bananas!  We've got hundreds of ideas already online for you to choose from.  And the best part is that all you need to do is pick the event and the dates.  We'll do everything else for you!  Go online today and check out the many available options.  Then send us a quick online message request.  We'll get back with you immediately.
Stags and Hens and others who like to to be in the driving seat can track down something different at GoBananas!
We all know karts and quads are cool and great fun but that's not the only way you get around.
Ok you might not need filled in on the fun of 4×4 driving but did you know you can also get down and dirty in mud buggies?
Then there's Argo Cats, Honda Pilots, Powerturn and RageBuggies, Hovercrafting, Rally Driving, Tanks and Segways! You can even see if you have second sight by trying driving blindfold!
No need for a satnav to suss out a shortcut to some motorised mayhem…..just get in touch with our top team at GoBananas now!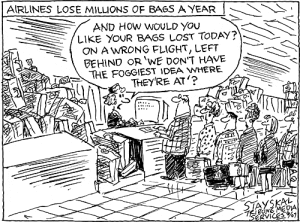 Presumably seriously pissed off being fobbed off or even unable to negotiate through the recorded phone selection messages maze one man has hit upon a novel way of getting a very big spotlight to illuminate his dilemma. It seems that after inaction on the part of British Airways to deal with his father's missing luggage he hit upon a brilliant way of getting some attention.
He decided not just to tweet about it, he bought a promoted tweet usually only used by advertisers keen to reach a wider audience. It appears to have been successful but whether it was cost effective would depend on what was in his paw's suitcase!
There are plenty of lotions and potions you can buy to improve your love life but it surely must be better to go the organ-ic route If you really need to perk up your pecker or make your pussy juicy!
If vanity means you don't fancy asking the doc for viagra or the temperature in the bedroom is bordering on Baltic the best remedy is readily available in every supermarket.
You can easily uncover some fantastic aphrodisiac options  in the fruit and veg aisle, plus your fellow shoppers will assume you're some kind of health nut with your trolly-load of fruit, not a sexual adventurer!
Learning a language is tough, but without doubt far tougher is trying to fathom out the real meaning of seemingly innocent -sounding statements that start to appear as a relationship blossoms. Biggest culprits are (in my experience) women, but we men have our moments of inspiration too. However, ladies first!
This gallery contains 5 photos.
Dour, that's what they call us. Perhaps they should add rebellious, rowdy, unruly, wry and rumbunctious while they're at it. Or maybe just honest and direct.
We Scots don't piss about with pleasantries we just tell it like it is or simply sort it out with legendary directness. Continue reading →
Getting rat-arsed, rubbered, buckled or bladdered (in other words pissed) must be top of any stag or hen do itinerary. But let's face it, this isn't really that out of the ordinary, probably just what you do most weekends. Lads and lasses do like a dry sherry or two of an evening and why not. Continue reading →
So you've been handed the poisoned chalice of being Best Man. Along with organising the stag party and the number of duties and tasks you now have to perform is that one thing that most men fear when it comes their way. Writing a Best Man's speech. Continue reading →
OK I guess most of you are A: Decades younger than me and B: Not expecting to expire anytime soon. So yeah its a bit early for Bucket List but it certainly isn't for a F*ckit List.
What the f*ck is a F*ckit List?
Dead simple, its the stuff you really should be doing right now, the stuff you claim to be dying to try but don't get round to, dangerous stuff, funny stuff, all sorts of stuff. Could be fairly easy like sky or scuba diving or swimming with sharks, funny business like trying stand-up in seedy social club, living dangerously like walking into Rangers pub dressed in green from head to toe, smashing the 100m sprint record (fighting chance if you try the previous one first), volcano boarding and so on. Continue reading →
OK we sorted out your Stag or Hen night and you had a fantastic time (we knew you would!) and somewhere along the line there has been a fair bit of booze consumed – doh!
But we're big on customer care and it seems to us that if we've pointed you in the direction of extreme drinking then an extreme hangover could be the next event, so here are a few extreme hangover cures to keep in mind.
Turks don't mess about, if your stomach is heaving then heave in a bit of stomach. They reckon tripe (a coo's stomach lining) makes a great soup with a bit of garlic and cream. We confess we haven't checked it out-yet. Continue reading →